Introduction
Having a complete, fully featured narrator profile on Findaway Voices is the best tool for landing more audiobook productions.

We provide a handy Profile Strength meter at the top of your un-published profile view. This meter will help you gauge how complete your profile is, based on the different sections you've filled out.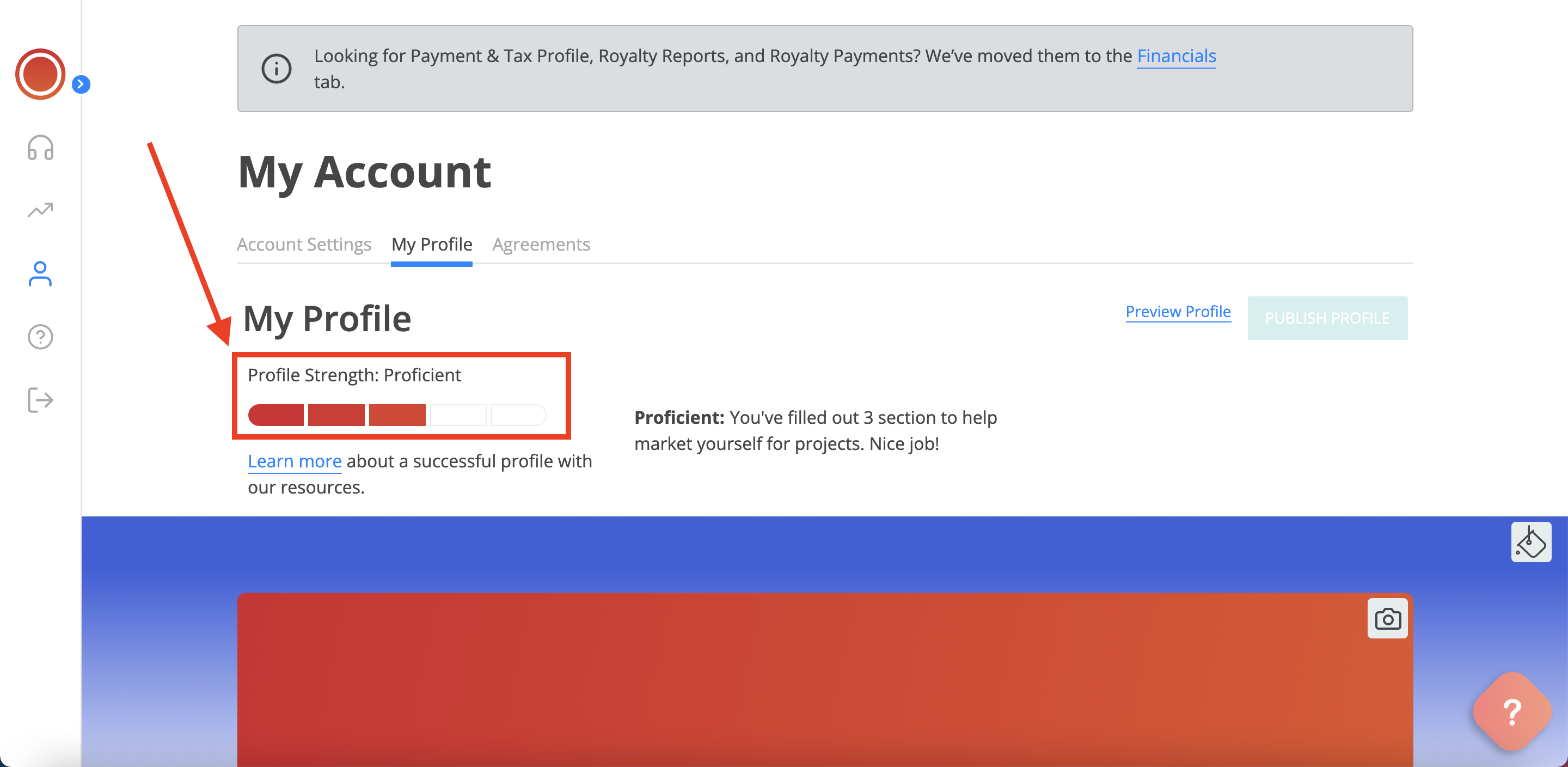 Here are some tips to ensure your narrator profile reaches its full potential.

Profile Strength Meter Tips
There are five levels a narrator can achieve in the profile strength meter.
The levels are:
Just Started = 1 section filled out

Novice = 2 sections filled out

Proficient = 3 sections filled out

Intermediate = 4 sections filled out

Advanced = 5 sections filled out

All narrators start out on the first level as Just Started. Narrators can level-up on the profile strength meter based on how many sections are filled out.

There are 5 main sections the narrator can fill out:

Narrator Overview (complete = all associated fields are complete)



Samples section (complete = at least 1 sample uploaded)

About section (complete = when text has been entered)

Narrator Skills/Restrictions (complete = at least one entry in each section)

Studio Equipment (complete = at least one entry in each section)

Narrator Overview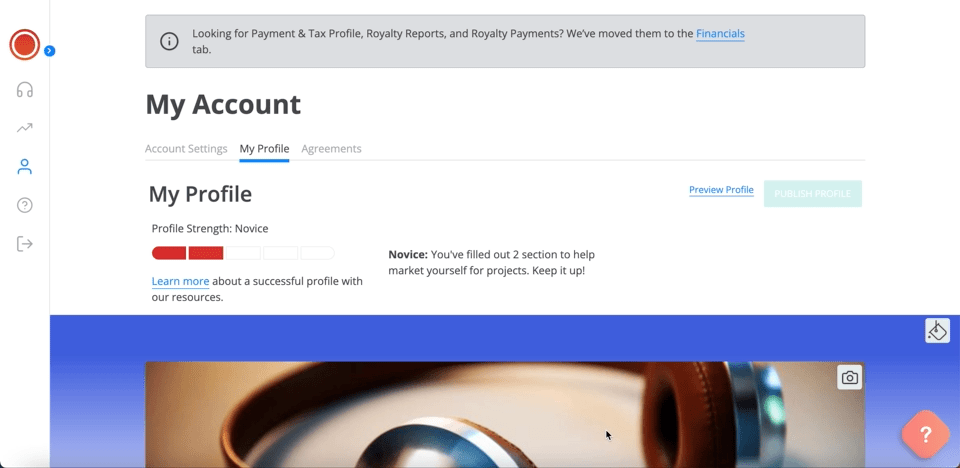 For a complete Narrator Overview section, be sure to have filled out or uploaded the following:

Headshot, Background Banner, Background Color, and Audio Introduction

Work availability

PFH rates, both Managed and Direct Contract rates

Social Media Links

At least one Narrator Highlight selected
Samples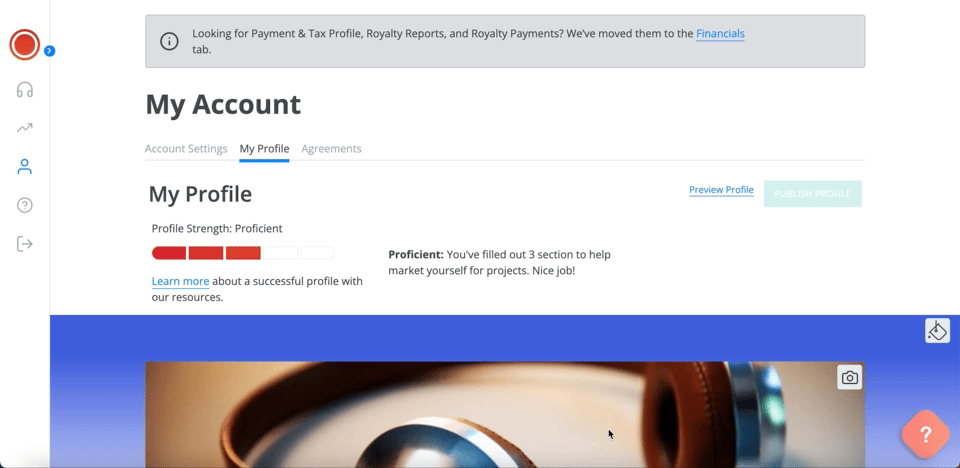 Narrators will need at least one (1) sample uploaded to their profile in order for the Sample section to be considered complete. We recommend that Narrators add as many relevant characteristic tags to their samples as this will improve searchability and filtering of your samples.

About (Narrator Bio)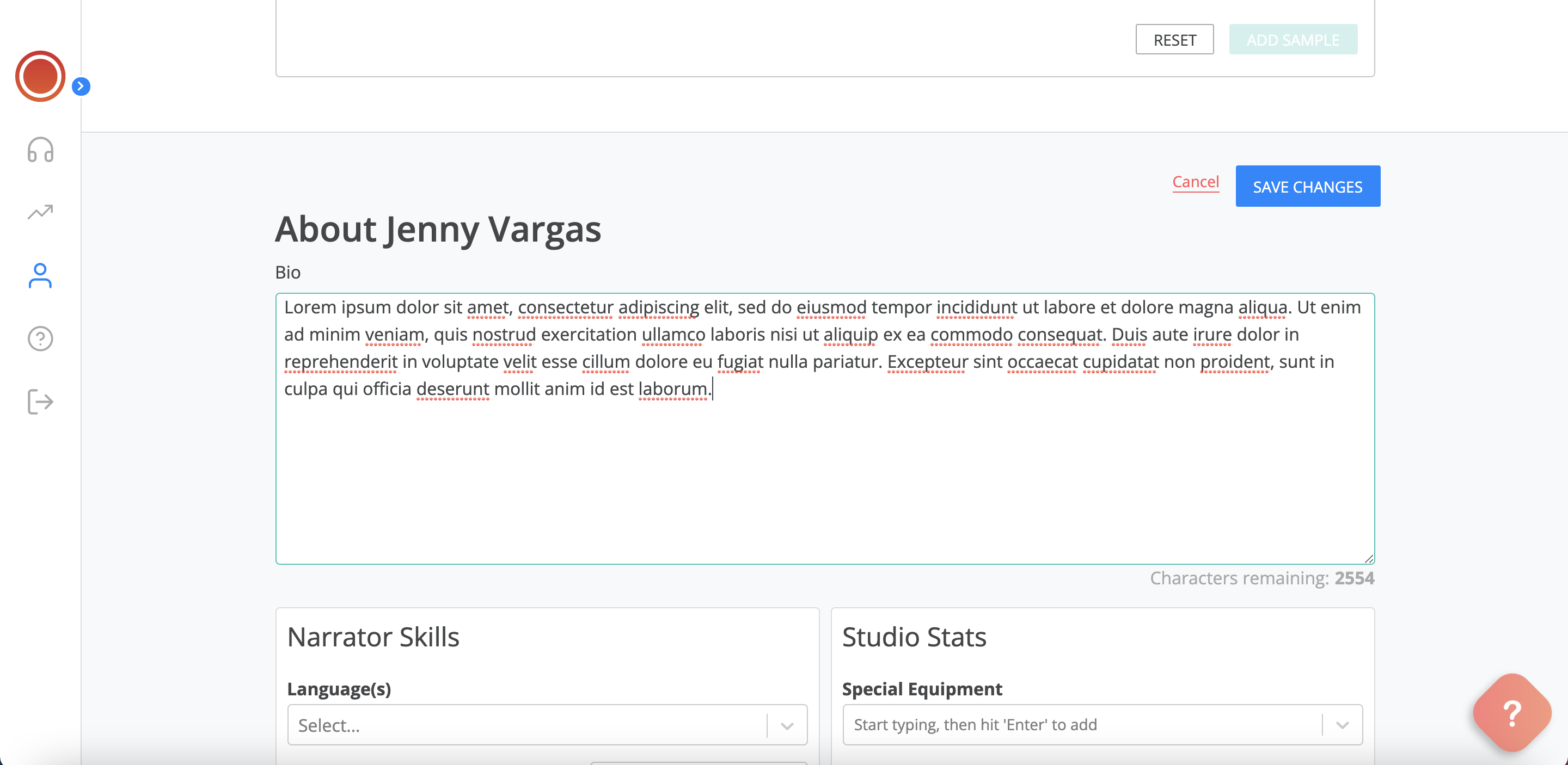 Adding any text into the Bio section of the Narrator Profile will complete the section. However, we recommend using this section to dive a little deeper into your personal story. Don't be afraid to get personal here!
Narrator Skills/Restrictions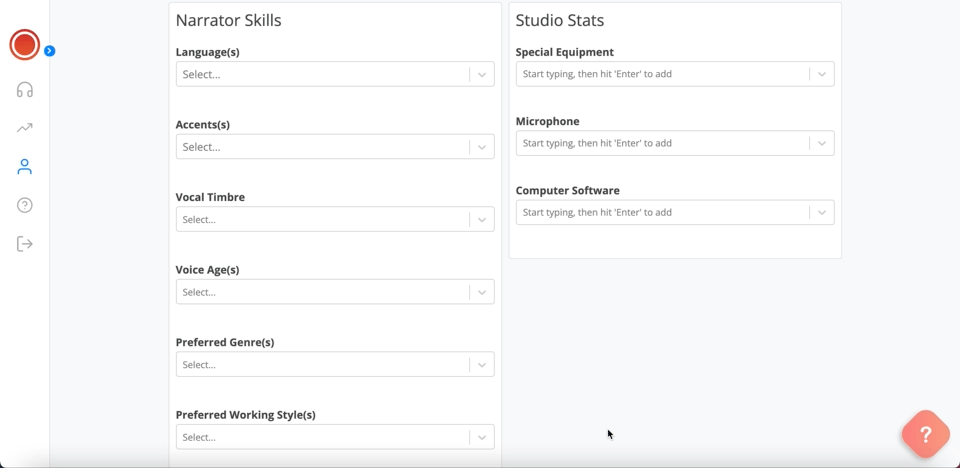 This section is where Narrators will want to show off their skills and capabilities by listing them out, including fluency of languages. Additionally, a narrator can select their restrictions as well. Including but not limited to profanity, sexual content and or gruesome content. There is also a field for additional restrictions not covered.

Be sure the following sections have at least one skill/characteristic/preference entered:

Language(s)

Accent(s)

Vocal Timbre

Voices Age(s)

Preferred Working Style(s)

Genre(s)
Performs sexually explicit content?
Performs gruesome/violent content?
Performs profanity/cursing content?
Studio Equipment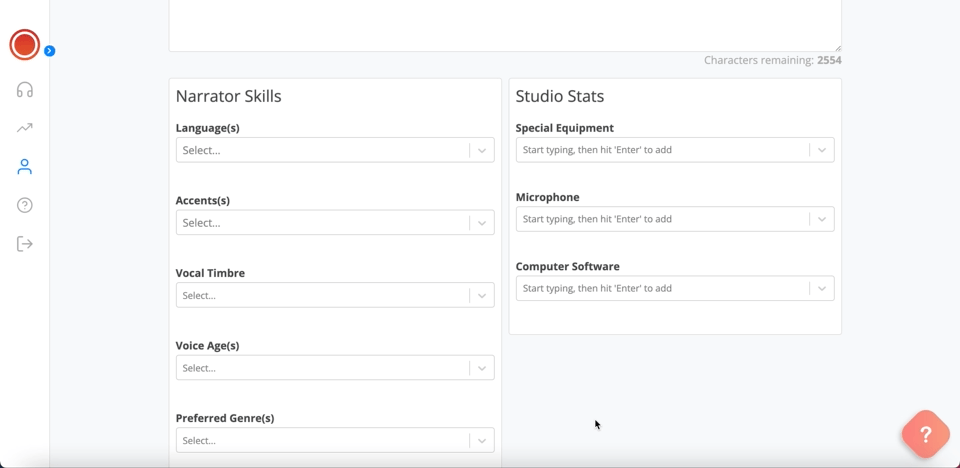 Have your own at home studio? Rent out a studio space? Show off what equipment you have (or rent!) here in our Studio Equipment section. Be sure to add at least one piece of equipment per section to complete it.

Special Equipment (DAW's, Headphones, Condensers etc.)

Microphone

Software