How do I generate Giveaway Codes?
Navigate to your audiobook project from the Findaway Voices dashboard, look for the Giveaway Codes link in the top navigation bar. Note that you must be logged in in order to generate Giveaway Codes.


Important Reminder: The ability to generate Giveaway Codes will become active after the Release Date of your audiobook has passed. Codes cannot be generated or redeemed prior.
.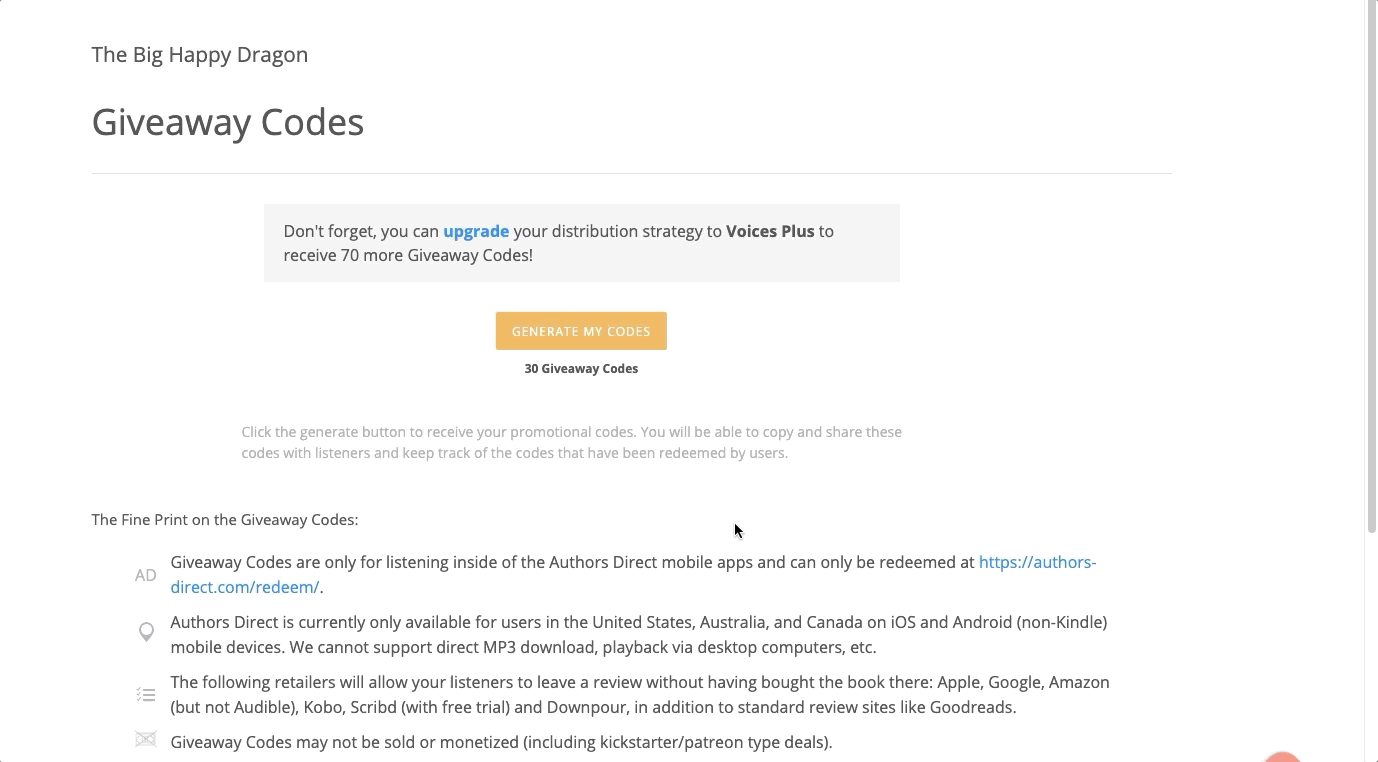 Related Articles

Do Giveaway Codes Expire?

Giveaway Codes (also known as Authors Direct Giveaway Codes) do not expire. However, they are one-time use only. We cannot "unredeem" a Giveaway Code.

How do I give away copies of my audiobook to groups or reviewers?

Every audiobook distributed with Findaway Voices may receive 30 Giveaway Codes which you may use to give free copies of your audiobook to anyone you'd like at no cost to you or the listener. If you need more than 30 Giveaway Codes, check out ...

How to Redeem Authors Direct Giveaway Codes

Redeeming an Authors Direct Giveaway Code Giveaway Codes can be redeemed at authors-direct.com/redeem. Navigate to the Authors Direct Redemption page Enter the Giveaway Code into the CODE box Type in the email address that will redeem the code ...

Do I have to sign up for Authors Direct to use Giveaway Codes?

No, you do not have to sign up for Authors Direct in order to use Giveaway Codes for your title(s). All authors distributing through Findaway Voices will receive 30 (or 100 if on Voices Plus) Giveaway Codes. These codes are powered by Authors Direct, ...

How do I communicate with the author/rights holder?

Each audio file uploaded to the Findaway Voices workflow contains a commenting system to chat back and fourth with the opposite party during the audiobook production process. Once an audio file has been uploaded (either during the extended sample ...