Author Profiles: Learn More
Author Profiles Introduction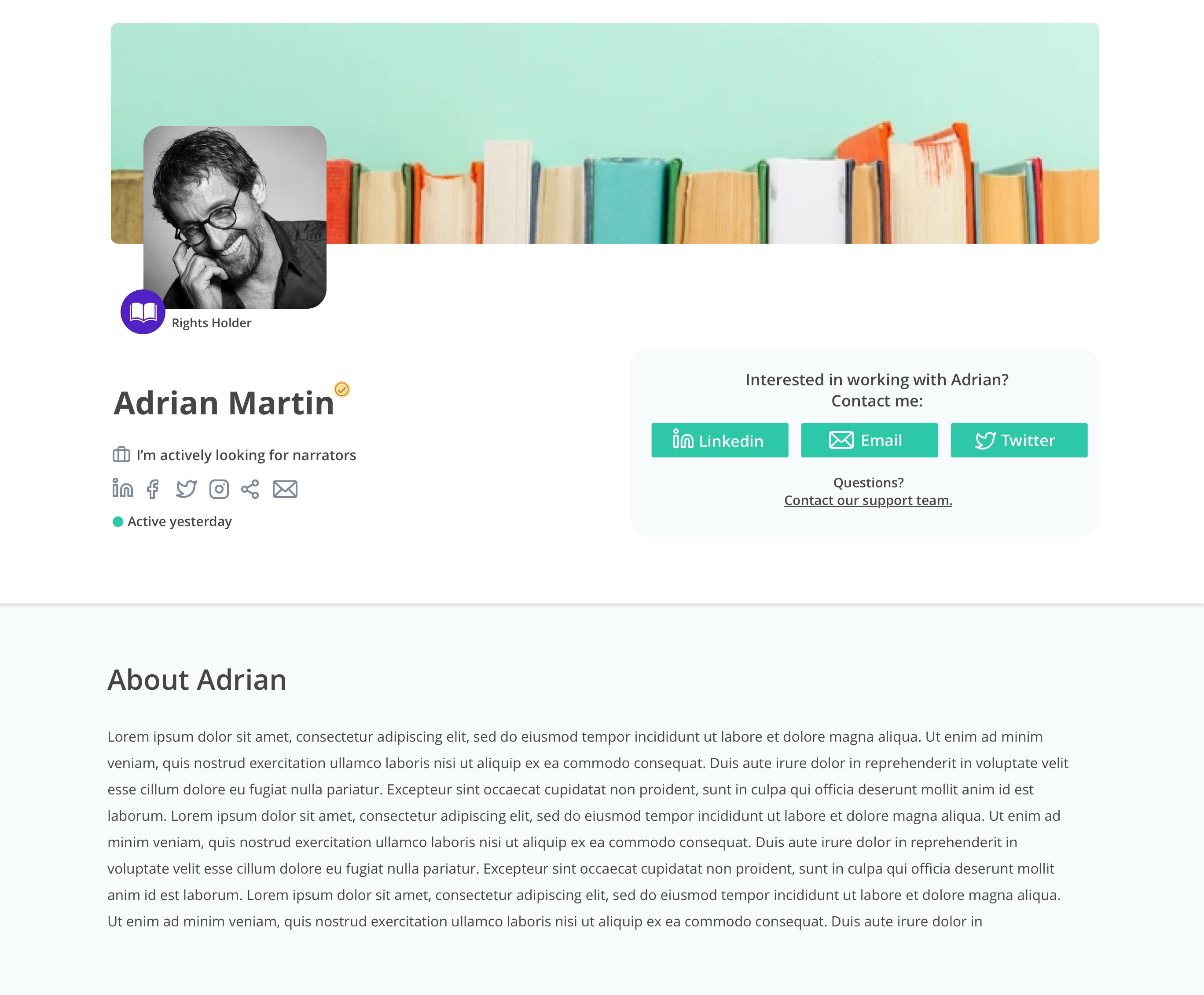 Today, Authors are now able to create a profile on Findaway Voices Marketplace. The Author profile looks similar to its narrator counterpart and features an avatar image, cover image, background color, and bio.
However, Author profiles live within the Marketplace platform and are not public with unique URLs like narrator profiles. At this time, they are only able to be seen by narrators from whom you request an audition.

Why Create an Author Profile

The Author Profile paves the way for the upcoming review system where narrators and authors are able to review one another after completing an audiobook production on the Marketplace platform.

When the review system is launched, authors and narrators will be able to review one another in several key areas. Then, as more audiobook productions are completed on Marketplace both authors and narrators will be able to see more reviews and stats about past productions that will help both parties better evaluate if this is a person you want to work with.

How to Create an Author Profile
The next time an Author logs in to Findaway Voices, they'll be prompted with a pop-up to complete a profile as well as a banner message on the top of their dashboard. To create your Author Profile simply click under the "My Account" section and navigate to the "My Profile" tab.

The Profile Creator only takes 3 minutes to complete and you'll have your Author Profile up and running!

Simply complete the following sections:

Photo Upload: Give your profile a face!

Banner Image: Customize your profile and upload a custom banner image.

Background Color: Select your favorite color to go behind your banner image.

Author Biography: Show narrators who you are as an author!
Related Articles

Learn More: Ratings & Reviews on Marketplace

Ratings & Reviews on Marketplace The Findaway Voices Marketplace now features a review system for both Authors and Narrators! How it Works: Both Authors and Narrators will be asked to complete a review of their production experience with the opposite ...

How do I communicate with the author/rights holder?

Each audio file uploaded to the Findaway Voices workflow contains a commenting system to chat back and fourth with the opposite party during the audiobook production process. Once an audio file has been uploaded (either during the extended sample ...

Steps to Distribute/Sell an Existing Audiobook with Findaway Voices (BYOA)

It's easy to use Findaway Voices to distribute/sell an already created audiobook! Here are the steps: Create an account or login at Findaway Voices. Start your audiobook with the Start New Project button and select Sell Existing Audiobook. Enter ...

Redemption Codes

100 Codes Available to all Findaway Voices published titles Giveaway Codes just got a major upgrade — they now unlock audiobooks on Spotify. We've reimagined Giveaway Codes and just launched a major update that's available for every one of your ...

Can I have multiple Findaway Voices accounts?

Findaway Voices generally does not support having multiple accounts with the same legal information. Please review the following frequently asked questions surrounding multiple accounts. Note: Please review the last bullet point if you fall into both ...